HEFMA members are reminded that the entire recording of our two Virtual Series events held so far - focusing on the Hospital Food Review and Sustainability - are available via the members section of this website.
These were both fantastic events, packed full of information from expert speakers, each concluding with a lively and extensive Q&A session.
The Hospital Food Review event heard from Review Chair, Phil Shelley about the progress of work since the review was published in October 2020. Further speakers drilled into two key areas of activities for hospital catering – the workforce and food waste. Molly Shaher, National Chair of PACE – the Professional Association for Catering Education – focused on attracting, retaining, motivating and rewarding skilled staff. WRAP's Eleanor Morris explained the Guardians of Grub scheme and why hospitals will soon have to start tackling the problem of food waste. Meiko's Paul Anderson also talked about designing waste out of the commercial kitchen.
The Sustainability event touched on some major issues that we've heard more about since with the publication of the latest climate change reports that are full of some truly worrying predictions about the damage that human activity is doing to our planet. The event heard from Dr Richard Hixson, co-founder of NHS Ocean about the importance of healthy oceans and why NHS Trusts should consider this in their supply chain. Simon Adamson from Bradford District Care NHS Foundation Trust explained a programme to introduce new ways of working, post-pandemic, which will involve more staff continuing to work from home. Finally, Alexis Percival from Yorkshire Ambulance Service NHS Trust discussed electrification of the NHS fleet and the infrastructure required.
If you weren't able to attend these webinars when they aired, click the links below to catch up.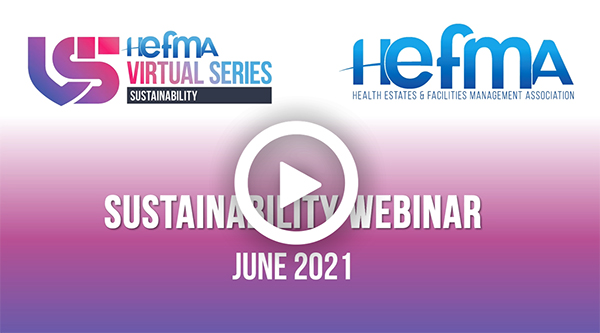 More details of the remaining three events in the 2021 Virtual Series - Digitisation, Construction/Compliance and the Workforce - will be announced shortly.